A handy mtb setup guide for your rebound settings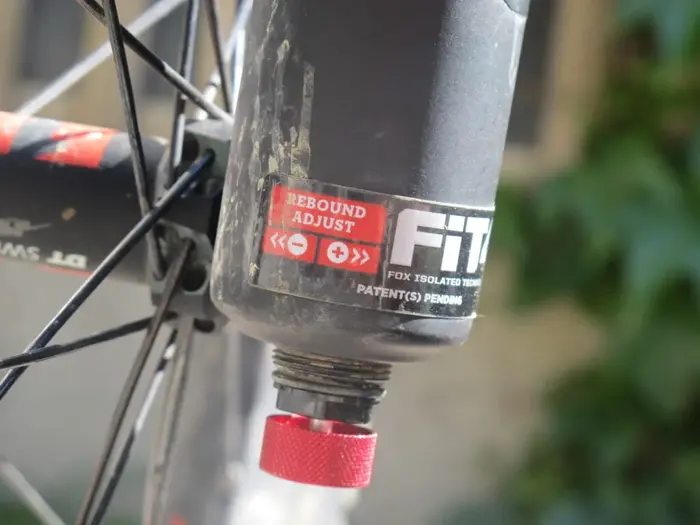 We want you to get started with your setup for your mountain bike. Therefore we created this little mtb setup guide for you. In this guide we give a brief overview how to create a good basic setup for your suspension and your tires. For the basic setup we will use the SAG as the main parameter. What SAG is, how to measure it and how to apply it on your mtb you will find in this blog post.
You applied a basic setup to your mtb with the right SAG? Great, we can now proceed with the mtb setup guide.
mtb setup guide for the rebound of your shock
We want to explain to you how you can adjust Rebound settings to your SAG. We do it by a practical test. You can do it pretty much anywhere. You just need to find a curb, where you can drop down with your mtb. Maybe the curb is as big as about 20 cm and you are perfectly set. Now fully counter-clockwise (+) rabbit the rebound. You can drop down the curb and you will probably feel two oscillations. This means the rebound is too fast. If not, the rebound is ok and we are done here with the mtb setup guide. So to make your rebound slower and decrease the amount of the second oscillation, turn your rebound 2 clicks clockwise.
Keep on going and further improve
Next up in this mtb setup guide focused on rebound you should drop down the curb again. This time the second oscillation should be less intense. This means we are on the right track. All you need to do now, is turn the rebound counter-clockwise click by click and do the curb test, until your rebound feels good and the second oscillation is pretty much gone. Then you have adjusted the rebound of shock the right way and you will have a great riding experience with a lot of safety.
Download the sagly app for free and tune your suspension
We hope this practical test helps you to adjust your rebound settings of your shock. A handy EASY SETUP GUIDE you also find on our mobile App. This app comes with many great features. Document, tune and compare your mountain bike settings with SAGLY. If you want to keep on reading in our blog, there will be soon a mtb setup guide on how to adjust the rebound of your fork. Or just poke around and find other interesting topics and posts.