MTBs and E-MTBs are equipped with a chassis, some of which are associated with quite complex settings.

The rider usually has not adjusted the chassis optimally and therefore has less riding pleasure and also endangers his or her safety.

SAGLY helps you to find optimal settings for your bike and to continuously improve and document them.

Different setups can be created for different bikes and terrains. These can be changed at any time.
The EASY SETUP GUIDE is guiding you through a base setup by using the SAG. The user inputs the suspension part's travel and the used travel when standing on the bike. This SAG calculator calculates the SAG based on this inputs and gives hints based on the result.
The EASY SETUP GUIDE helps you to find an appropriate base setup by giving you recommendations for your tire pressure based on your weight and riding terrain.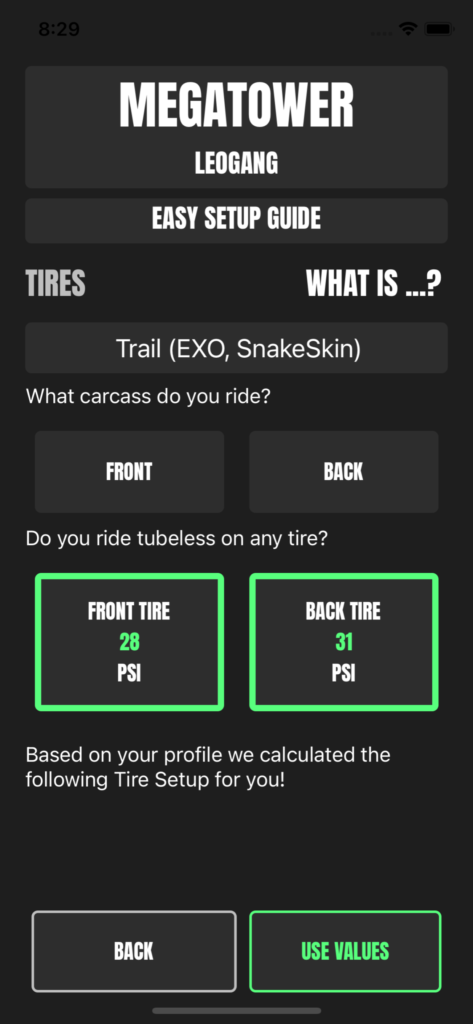 Setups can be managed, edited, copied and much more. Your setups are shown in a nice and clear way. A notes field helps you to keep track of additional info, like what weather you created the setup in, and so on. Adjustments for wet conditions are calculated automatically.
Another feature supports the rider with suggested solutions for problems with the chassis. This helps the rider to continuously improve the setup, while riding.
The balance feature checks if your setup is balanced between the rear and the front and also gives hints how to improve and balance your suspension setup.
In addition, the you receive general tips & tricks as well as an explanation of terms for optimizing and maintaining the chassis.
Screenshots of features we want to build:
Help us improve SAGLY and rate the features we have planned below. Based on this input we are going to keep developing SAGLY!
Thanks & Happy riding – Your SAGLY Team!